LANGUAGE EN/JP
About us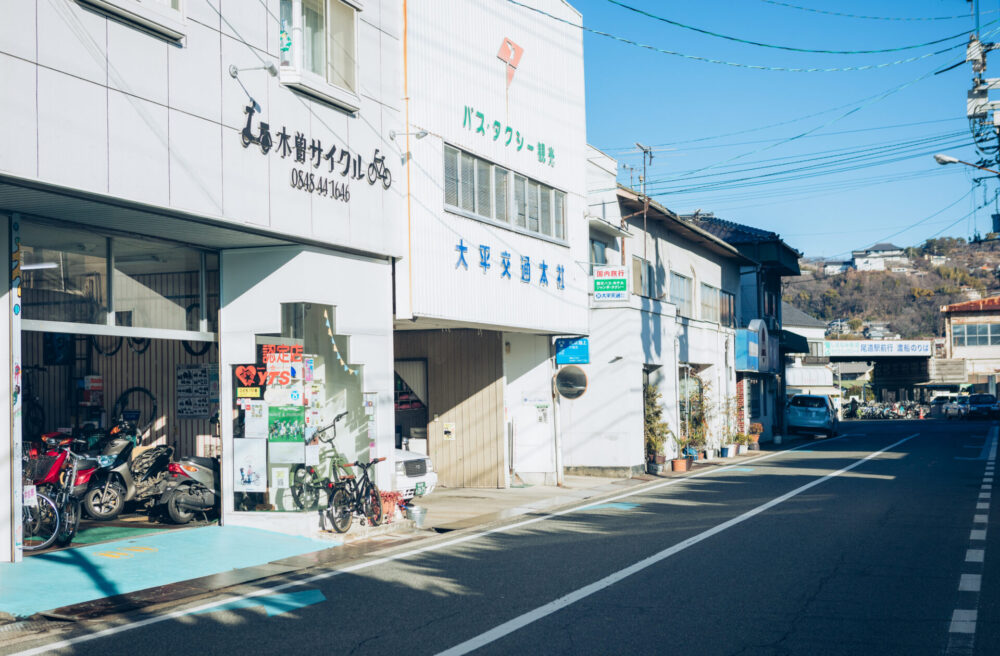 KISO CYCLE located near the ferry port in Mukaishima island where is the first or final island in the Shimanami kaido cycling road.

Many people cross from Onomichi to Mukaishima island by ferry boat and start cycling from here.

If you go to Imabari or would like to enjoy crossing some islands from Onomichi side, please use our rental service.

The mecanical staff is maintaining bicycles well.

There are three ferry routes between Onomichi and Mukaishima island.

The ferry port which is right next to KISO CYCLE is for the ferry that is situated closest to the Onomichi station.

KISO CYCLE is not just a rental shop ,is a traditional bicycle shop which is familiar to local people, the shop has been around for a long time since 1951.

We have going for making a place for cultual exchange between tourists and locals.

Some tourists enjoyed shogi game with locals.
Some tourists played guiter and piano with locals.

We hope you will enjoy comunicating with locals if you would like.

we also hold human powerd juice ivent on every weekend.
Pedal and make your original juice!
It is much fun!

Please drop in us when you start or goal.
Access Map
Address :
232-28 Mukaishima, Onomichi, Hiroshima

TEL :
0848-44-1646

Regular holiday:
Every Wednesday
About temporary closure, please check the bussiness day calendar on Instagram.
▷ https://www.instagram.com/kiso.cycle.mukaishima

Business hours:
8:00 - 18:30

If you make a reservation three days in advance , you can extend your rental time(maximum 7AM- 7 PM) if you would like.
Rental Service
■Normal bicycles and electric bicycles rental service for tourists

we stock lightweigt model bicycles with gears doe kids.

■Electric bicycles rental service for medium or lonrg -term residents
Rental service
Medium or long term rental service
- Service -
■You can choose a rental period from 1 month to 12 months.
■The rental price depends on the type of product , new or oldness,and period.
■During rental service utilization period, repairing of flat tire and maintenance is for free.
Other repair service that is not mention must be paid. The delivery fee or pick - up fee may be obtain.
■If you would like to rent for more than 12 months, please let us know.
■Once rental period was finished, you have the option to return or pay the balance and buy it.

- Insurance -
■All bicycle that you will rent were registered for anti- theft purpose by KISO CYCLE STORE, just in case it was stolen and enrolled TS Mark ( Liability insurance).
■Please be advised that in case the renter or the third party suffer from damages caused by the breakdown of rental bicycles due to accident, the KISO CYCLE STORE will not be held liable to it and will take no responsibility at all.
■If the renter or third parties suffer and damages caused by the breakdown of the rental bicycles due to accident, the rentee and third party must use their own insurances.
- Malfunction・Theft -
■Small scratches that happened during the rental period will be considered and no extra charge.
■In case you found a defect or malfunction while using the rental bicycle. We encourage to stop riding without delay and contact KISO CYCLE STORE immediately.
■In case damaged of the rental bicycle happened due to renters negligence, the store will charge the rentee for reasons.

- Return・Cancellation・Delay -
■During the rental service period. The store does not accept refund due to cancellation of customer's personal reasons.
■For the renter, prior to deadline of rent period the renter must call the shop in case there will be a delayed. Failure to do this will get penalty of extra charge.
■If the payment is delayed ,we will charge the late payment.
■If the payment is delayed twice, we will charge 10,000 yen as a cancellation fee and cancel the contract.


- Safekeeping -
■It is recommended to keep the bicycle under the roof as much as possible.
■Kindly fill the bicycle tire with air, to prevent it becoming flat tire.
■It is not advisable to remodel and shall not lent it to others.